According to research conducted by Mineta Transportation Institute(MTI),  bikeshare riders are actually safer cyclists. A recent article on Curbed.com reported that MTI found a lower accident rate for cyclists using a bikesharing program compared to other 'regular' cyclists.
The institute's peer-reviewed report, Bikesharing and Bicycle Safety, utilized interviews, long-term data and focus groups to research bikesharing in three major U.S. metropolitan areas. Washington (DC), Minneapolis-St. Paul and the San Francisco Bay area were selected and the bikesharing data collected showed the rates of injury and collision for the bikesharing riders to be less than their regular cycling counterparts. For example, Washington's bikesharing program Capital Bikeshare showed the vehicle collision rate to be 35% less than the traditional national rate.
The study interestingly notes that since there have been 0 reported bikeshare rider fatalities, the rate is currently at 0 compared to the national rate of 21 fatalities every 100 million trips.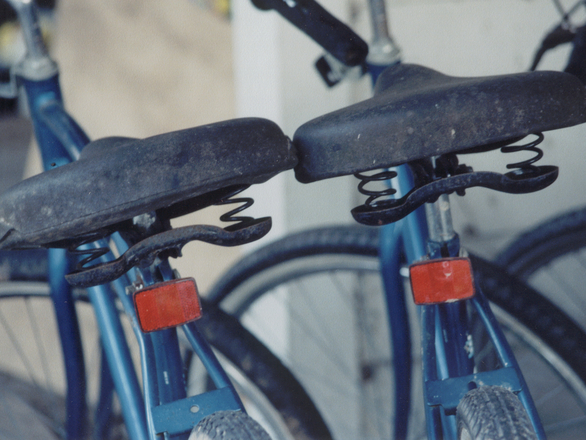 Why such a difference? What are bikeshare riders doing differently? According to Elliot Martin, the report's primary author, "bicycle design may be playing a role in slowing down the bikesharing bicyclist," referring to the bulky, 'beach cruising' style of most bikesharing cycles. He speculates the wide body style influences riders to cycle in a safer, more cautious, manner. Other influences could be the built in safety features, such as reflectors and bright colors, and the fact most bikeshare users are cautious in a new city or neighborhood. However, the use of helmets seems to have little to no effect considering their use is document less in bikeshare riders – of all the experts interviewed for the study only one suggested helmet use should be mandatory for bike share users.
Another interesting speculation is that the increased number of cyclists on the road, due in part to bikesharing programs, has forced drivers to be more cautious and aware of bike riders. Some have suggested that as bikesharing grows, safety for cyclists will increase in those areas due simply to the increase in bike numbers. However, further study is suggested.
The data collected through bike sharing has given researchers data – trip counts, distances, collisions – with an accuracy never before seen. Further research will be defining bike safety needs in a way never before possible. Ride with awareness and get home safe!