After several years of planning, the Figueroa Corridor Streetscape project (MyFigueroa) is coming even closer to reality. Soon, the Figueroa Corridor in Downtown and South Los Angeles will accommodate a bus-only lane and cycle tracks, while still maintaining vehicle access.
When completed, Figueroa Corridor will provide a safer, sustainable, more comfortable local environment for pedestrians, cyclists, and transit riders. The project's updated designs will be presented to the public at a Community Meeting on April 9 from 5:30 to 8:00 p.m.
For two years, planners and architects have been working to turn the rather bleak South Figueroa Corridor into a complete street with bike-only lanes. While support has been mostly positive, many find it hard to believe that it is happening in downtown Los Angeles.
With some major hurdles facing the $20 million project, like the dissolution of the Community Redevelopment Agency responsible for the project, if everything goes as predicted, it should finally be completed by the end of 2014.
The MyFigueroa is funded by a Proposition 1C grant and is fully supported by Council District 9 as well as the Mayor's Office as a "signature project" for Los Angeles. It is now being managed locally by the Los Angeles Department of Transportation (LADOT).
Some of the key highlights of the LADOT-managed project include pedestrian and bike improvements — like high-visibility crosswalks, widened sidewalks, transit platforms, more street trees and landscaping, better signalization and signage, and public art.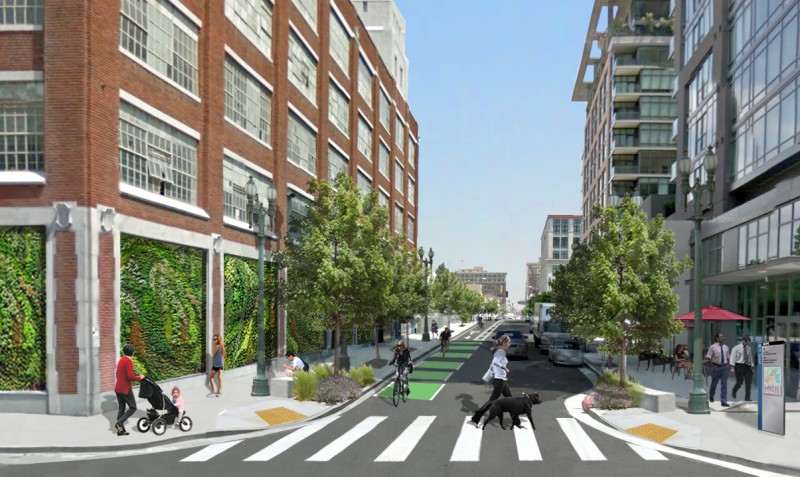 Here's what to expect for cycling along Figueroa Street from 7th Street to Martin Luther King Jr. Blvd. with the features that will be put into place:
Bikeway Connections
The proposed on-street separated cycle tracks on each side of Figueroa will cross approximately 27 signalized intersections, including a light rail line at Exposition Boulevard toward the southern end of the bikeway.
The bikeway will create a crucial link for a local cycling network—it will connect to a bicycle facility running east-west along Martin Luther King Jr. Blvd, the Exposition Line, as well as to bike lanes on Jefferson Street, 7th Street and 11th Street to the north in Downtown.
The proposed on-street separated cycle tracks will also connect to local and regional rail and bus systems along their entire length, with a large and expanding concentration of transit options toward the north end in Downtown L.A. at the 7th Street Metro Station.
Safety
At many intersections on Figueroa, safety will be enhanced by modifying traffic signals to add separate bike signal heads. This modification will be combined with a bike box at the intersection to give cyclists a head start and to minimize conflicts with right-turning vehicles.
Through intersections, and at conflict zones such as driveways, the on-street separated bicycle path will be demarcated with colored paint on the pavement in bicycle/vehicle and bicycle/pedestrian mixing areas, using special signage to alert cyclists and motorists to potential conflict areas.
Bicycle Wrong Way signs will discourage travel in the non-intended direction within the bike facility.
Cycle Tracks
On-street, fully separated cycle tracks or painted, buffered bicycle lanes will run both northbound and southbound, adjacent to the curbs, from 7th Street at the northern end of the project (northbound-only in the one-way northbound section of the corridor), to Exposition Boulevard, near the southern end.
To create the cycle track, a bike lane is placed along the curb, where the parking lane is traditionally found, and parking is relocated between the bike lane and the first lane of traffic. In the cycle track solution, the pedestrian on the sidewalk is further buffered from moving traffic by slower moving cyclists along the curb, who are protected by on-street parking and transit platforms for boarding buses as well as the coming-soon streetcar service on Figueroa north of 11th Street. Moving vehicles are accommodated just past this zone through traditional lanes.

This project will be the stepping stone for more sustainable city planning in the future. This is a win-win situation for the people living in the downtown Los Angeles area. Especially those who use transit, walk, or love to bike.