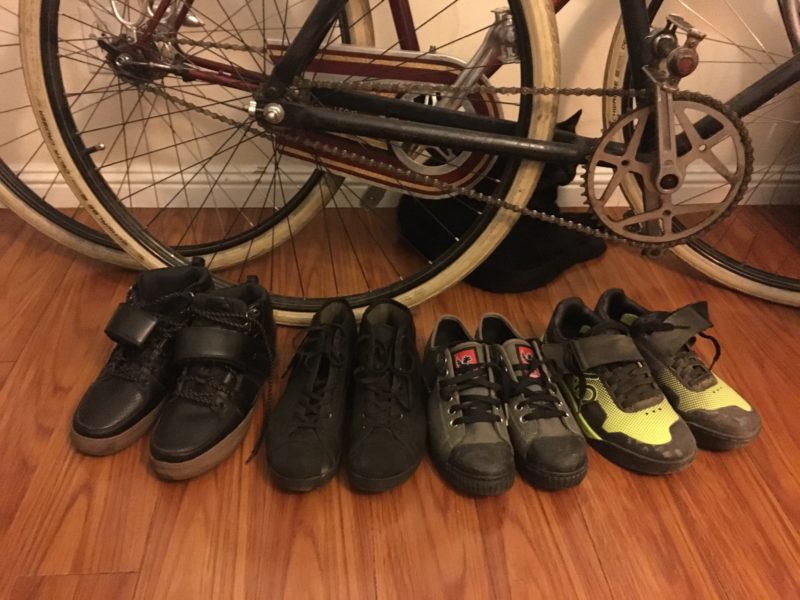 My reluctance to own as much gear as possible despite being active in a multitude of sports has led to needing a more functional wardrobe. Since I started riding in the city of Long Beach for work and play, I preferred to wear what I was already wearing – sans "costume change". Currently I bike to work, and occasionally take off-road treks along the way. My weekend mountain biking does involve a change of clothes, but that includes shorts I also wear all day (thanks Swrve)! I understand that this isn't for everyone, but I prefer a seamless experience from riding to working (or playing). Not having to think about specialized gear makes the option to ride more accessible, and requires much less motivation. I can hop on the bike and ride without having to dig out shoes from a box and jerseys from the bottom of a drawer.
Such a seamless experience comes with performance limitations, but the trick is to find "wearable gear". This type of gear serves a decent compromise for riding and walking, working etc. I will have a series of reviews for gear that exemplifies this philosophy. Some gear featured I have owned for long time. I would also stress that there will be occasions when you cannot participate in rides without proper gear. I make that sacrifice at the velodrome when I wear jerseys and spandex shorts, and on gnarly Singletrack when I don padding plus a full-face helmet. So be safe and wear proper gear when necessary. Most of these shoes might even pass muster in the US's #1 city for biking in office attire.
OMG! Shoes!
This article is all about SPD shoes. Although I ride some bikes with flat pedals, I prefer to clip in. Lucky for me I started out with clipless pedals on my mountain bike back in 1997. This provided me with an introduction to the Mountain Bike SPD pedal and the necessary gear for my fixie commuting a decade later. SPD shoes generally have a recessed area (sometimes called a cleat box) which means the cleat sits level with the sole, making it possible to walk in them as well as pedal. In mountain biking this makes it safe to carry your bike over wet boulders or hike your bike over un-rideable obstacles. In an urban setting this means you can lock you bike and go catch a show, or head to work. In the past year, I have been commuting to work and "living" in my "cycling shoes". These are the shoes I have been wearing.
Quoc Pham – Hardcourt Mid
These shoes have been with me since the beginning of my bike commuting adventures and my mtb adventures until I killed the first pair. You could say that I pushed these to the limit and Quoc Pham has an excellent warranty program, but more on that later.
One thing I could easily say about these shoes is that I wore these all day until I went to bed. These shoes are by far the most comfortable and walkable SPD shoe I have ever worn. When walking, you don't even notice the cleats unless walking on a textured surface. They fit as expected and the cleats feel right. The shoes also dry fast when wet which is a nice touch in weather but are not completely waterproof.
I think these shoes look pretty good too and are certainly presentable enough for a casual office environment. They do suffer a little bit from what I call the "orthopedic shoe syndrome" (shoes that look like orthopedic shoes), but not so much so as to make them ugly.
The only issue with these shoes is that what makes them so comfortable for walking, are what makes them slightly underperforming for cycling. I really do feel some flex when pedaling in these shoes, and I typically wear these when I'm not in a hurry or know I will have to walk a distance on my lunch. The flex really cuts down a little on pedal efficiency, but this won't be a problem if your simply looking for moderate paced ride or if you simply must have a comfortable office/walking shoe.
Out of all the shoes, I really did put these through their paces. The failure I mentioned earlier had to do with the "shank" breaking. At the time of this mishap I didn't have a pair of stronger mountain bike shoes and I was riding a singlespeed up steep hills and constant stream crossings. Quoc Pham did honor their warranty, and I got a new pair of shoes. The new pair are limited to commuting and urban adventures.
Pros: good looking shoe, water resistant, very comfortable, walkable
Cons: somewhat flexible for pedaling
Price: $199 (from Mission Workshop),
Website: https://quocpham.com/collections/hardcourt/products/hardcourt-mid-black?variant=33087074191
Chrome – Kursk Pro 2.0
These shoes are Chrome's original SPD shoe which they have updated. These shoes look pretty cool if you like retro sneakers, like I do. I was really taken by the look of the shoe so I decided to give them a try. The fit is as expected and the cleat fits well. The Chrome really feel as close to a cycling shoe as any SPD shoe I've used. The stiffness makes the shoe come close to feeling like those I use for track which are some hard uncomfortable hunks of some weird material not suitable for walking! This brings up some good points and some bad points.
The Kursk Pros really belong on a fixie group ride where you want the speed but you want to retain your casual cool look (sans Spandex). I really do feel faster with these and there is reduced play on the pedals. The increased pedal efficiency was really noticeable. I have found that these are my go to shoes when I am running late and I need all the help I can get to move quick.
The problem with these shoes is that they are very uncomfortable to walk in and you do feel and hear the cleats on hard surfaces. I dreaded my daily lunchtime jaunt in the city with these on and was accompanied by a "clack-clack-clack" everywhere I went. If you are looking for a shoe that you need to walk comfortably in then this isn't it. That reminds me, the aglets are metal. These aglets may flop around and drive you mad as they strike your crank arm. Double knot should take care of that.
Another point to make here is that Chrome warned me that these suffer from a weak shank as well. I suspect this might be due to the shoe's usefulness with the fixie/messenger crowd. Mashing a gear involves some rather high torque!
Pros: good looking shoe, pretty stiff, good pedal efficiency for a walkable SPD
Cons: not comfortable to walk in, cleat may touch ground, metal aglets make noise
Price: $95
Website: http://www.chromeindustries.com/product/kursk-pro-2.0-bike-shoe/FW-113.html?dwvar_FW-113_color=BK&cgid=bike_shoes
DZR Marco
I have wanted to try the DZR shoes for some time now. DZR has been supplying the urban cyclist with SPD compatible shoes for sometime now and their large assortment of styles is unparalleled. The kind folks at DZR decided to let me try out a pair and it was really difficult to pick one. I settled on the Marco because I loved the style and they look like they can handle the abuse of urban commuting.
Unpacking the Marco's, you'll notice a very fashionable urban shoe that would meet the approval of the most discerning sneakerphiles. You'll really look the part of a hip urbanite cyclist with these on! One word of warning: these shoes run large so I had to order one size down than normal (I believe this might be true for all models, so check before you order).
After looking at the specs for the DZR's, really did expect them to provide a good balance between style, comfort, and cycling efficiency. They have with a caveat. I have ridden them on the wettest part of the year and they got sloshy, but dried very quickly and were ready for more in no time.
The DZR Marcos have become my daily shoe despite some shortcomings (more on that later) due to walkability and comfort and a decent stiffness for pedal efficiency. These shoes have become my favorites. They're comfortable, and look great. Perhaps I'd leave them at home if I was doing a long ride (the Chrome's would be better for a long ride.), they are close in comfort to the Quoc's so that's a toss up. I have been wearing the Quoc's to change things up, but I really notice the change in stiffness. I usually find myself going back to the DZRs.
I must mention one unfortunate downfall I experienced with this shoe. The cleat box (the recessed portion of the sole where the SPD cleat is installed) seems to be located too far to the outside of the foot. This reduces your Q-factor on the pedals. When I installed the cleats as I would on my other shoes, the inside of the shoes would strike the crank arms. This clearly wasn't going work so I adjusted the cleats to compensate. I had to install them as far over to the inside of the soles (toward big toes) as I could. This solved the crank arm problem, but the shoes still feel different than my other shoes and can throw me off at lights (won't be a problem if you do track stands). This difference makes clipping in and out something I have to think about, otherwise its not a big deal. I did speak with DZR and they mentioned this could be a grading issue (having to do with the size range), so it may not affect those in middle range sizes. Because I had to size down, I was wearing the smallest shoe they make in this model.
I have meant to try these out on the trails (DZR claims they can handle it), but honestly I'd hate to scuff them up too much! They really have hit a soft spot with me. I have done some light trail riding however, and they handle well on and off the saddle. I hope they fix the grading issue because this is the only thing keeping them from being my go to SPD all round shoe for commuting, walking, even mountain biking.
Pros: great looking fashion shoe, very comfortable, walkable, decent efficiency
Cons: may run large, cleats may not fit as expected
Price: $129 (from Mission Workshop),
Website: https://dzrshoes.com/collections/mens/products/marco-black?variant=1114325808
Honorable Mention:
The final shoe I'd like to mention is a mountain biking shoe 510 sent me for review. Initially I wanted one shoe for everything, but that is a quest that will continue. The abuse I put shoes through by banging them on rocks or getting them wet along with crashes and high torque is a lot to ask of a shoe that looks right in the office.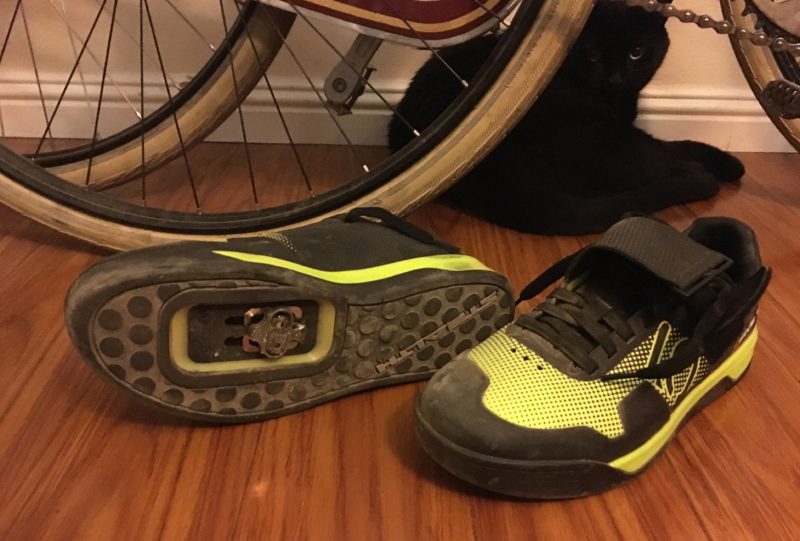 Five Ten – HELLCAT PRO
Five Ten have built up one heck of a reputation in the flat pedal category, and I must say that I use my 510 Freerider High's exclusively when I ride flats. Those replaced my old Five Ten's which I still have as a backup pair. Five Ten had become the favored shoe for downhill, but as more competitors have switched to SPD, FiveTen answered with some SPD models as well.
The Hellcat is perhaps too much shoe for those of us who aren't downhill racers, but I like overkill! These things are wide for more stability, and the cleat box is well constructed and looks the best finished of the bunch. Also it's offset, so you can tell they thought about cleat placement. The shoes are tough, but this does mean weight. These shoes are heavy, so if you desire a good cross-country setup, these aren't ideal. I will say that I climbed a good amount with these and I didn't have a problem, but I prefer an "enduro" set up on my mountain bikes. This means heavy pedals with a massive contact point around the SPD connection.
The hellcats feel very stiff, but are comfortable enough to walk in if you have to hike a bike. I wouldn't want to walk all day in them though. I love how well the strap over the laces work (better than the DZR). The stretchiness really does work as a power strap to keep things snug.
Another thing worth mentioning is that they don't function very well as a urban shoe because they're definitely more about function than form. The shoes look bulky and the model 510 gave me is neon yellow. I would not feel comfortable wearing these to work based on the look of the shoe alone.
I will continue to use these as my heavy duty mtb shoe. As I increase my light trail riding after work, I would choose the DZR's for the job. I fear the Chromes and the Quocs would not hold up. Now I have to join a fast fixed gear group ride to give the Chrome's a place! Onward!
Pros: Stiff, good fit, thoughtful cleat placement and bombproof construction.
Cons: a bit ugly, but better color options. not most walkable SPD
Price: $180
Website: http://www.fiveten.com/us/bike/hellcat-pro-semi-solar-yellow