Cyclists account for more than 24% of the vehicles on the roads of London during the morning rush hour, according to the new data from Transport for London.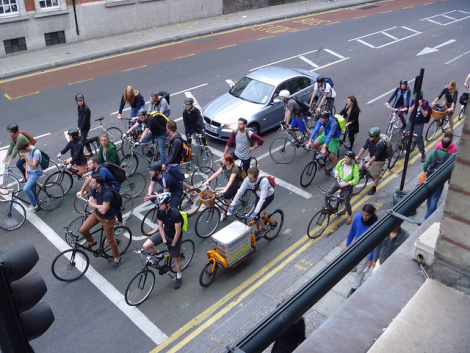 That's quite an impressive percentage…. Seems that there's no longer any denying how mainstream bicycling has become — time for some infrastructure improvements and bicycling budget increases in my opinion.
The new figures are the result of a mass census of bicyclists in London – the largest of its kind to date. The Guardian has specifics:
At Theobalds Road near Holborn, bikes were 64% of all vehicles heading west, while Elephant and Castle, one of London's most notoriously frightening roundabouts for cyclists saw 903 cyclists per hour head north to the city centre between 7am and 9am.

Unsurprisingly, the bridges score well (they are the only way for cyclists to cross the river). London Bridge, for example, averaged 660 bikes an hour over the whole day (6am to 8pm), or 47% of vehicles. In Amsterdam, meanwhile, 60% of inner city traffic is bikes.
London's new cycling commissioner, Andrew Gilligan, had this to say when asked about the new figures: "Cycling is clearly a mass mode of transport in central London and until now it hasn't been treated as such. Nearly all provision for cycling is based on the presumption that hardly anyone cycles, that you can make do with shoving cyclists to the side of the road and that just clearly is wrong."