There are all kinds of reasons why you might need a bicycle basket as an accessory on your bicycle. Most of those reasons have to do with carrying objects you need for the kind of cycling you're doing. You might be carrying some books home from school, picking up a few groceries at the local convenience store, or simply stowing a bag with your work clothes, as you pedal to work in the morning.
At any rate, a bicycle basket can be a very important utility that allows you to pedal safely, keeping your hands-free for steering and maintaining balance.
Look for these things to make sure you purchase something that works best for you.
You'll Want Lightweight
A lightweight basket is best for most people because whatever is being carried in the basket will add a significant amount of weight to your bike as is. The last thing you need is a heavy basket.
Not only will a heavier basket weigh down your bike, but the heavier the basket, the more it will lack in functionality. If you're wanting a basket that you can detach and carry into the store or your home, having a lightweight option will be beneficial. Additionally, a heavier basket will just make your ride more difficult and unbalanced.
Basket Location
The next factor to consider is whether you want a front-mounted basket that's attached to the handlebars, or a rear-mounted one that's attached to the rear wheel frame assembly. Some people don't like the visual distraction of having a front-mounted basket, and if there's something heavy being transported, it can make steering more difficult.
On the other hand, a front-mounted basket allows you to keep an eye on the items in your basket, which is appealing if you're looking for a more secure option.
Child Or Adult?
A third factor to take into consideration is whether you're buying the basket for an adult or a child. Children's bicycle baskets tend to be smaller and are generally built for decorative and novelty purposes, whereas adult-use baskets can hold more and are built to last.
Along with that, consider if you're using the basket as an accessory or as a functional item. Also think about what items you're going to be transporting. You wouldn't want to buy a basket that is too big, or worse, one that is too small for an item you'll be riding with daily.
Take the time to measure the items you'll be carrying in your basket and make sure that they'll fit!
The Best Bicycle Baskets On Amazon

Ohuhu Quick Release Front-Mounted Basket
Available for around $25, this basket features plastic-coated steel construction that resists weathering and rusting. Foam-coated hooks protect your handlebars from scratching and other damage and allow for easy removal from the handlebars when desired. The mesh design of the bottom pan makes it possible to carry small, loose objects without having them fall through.
Buy It At Amazon: Ohuhu Bicycle Basket (About $25)
M-Wave Rear Basket
A rear-mounted option that can be purchased for around $30, this basket features a long pan capable of carrying multiple objects.
The long basket is narrow enough that it doesn't stick out at the sides to cause any traffic or maneuvering problems. Side handles permit the basket to be detached and carried.
Buy It At Amazon: M-Wave Rear Basket (About $30)
Nantucket Bicycle Basket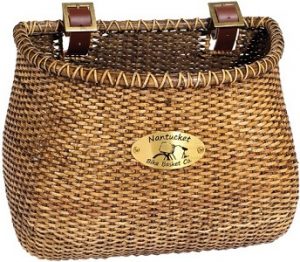 Not only is this option functional, but it looks sharp. Available for $50, this classic basket is manufactured by the well-respected Nantucket Basket Co., and is a replica of those actually used during the whaling era.
Woven from fine rattan cane, it attaches to your handlebars with two adjustable leather straps.
Buy It At Amazon: Nantucket Bicycle Basket (About $50)
Sanmersen Folding Bike Basket
This front-mounted, heavy-duty, weatherproof basket can be used for mountain biking and other hard-use situations. Flexibility is a great attribute of this folding basket, making it very convenient for off-road use and storage.
For about $35, you'll be able to transport up to 22-lb. of goods in this strong, yet lightweight basket.
Buy It At Amazon: Sanmersen Bicycle Basket (About $35)
Sunlite Woody Rack-Top Rear Basket

This basket can be purchased for $65 and is a true classic in construction and performance. It has a rubber carrying handle, wooden pan construction, and a virtually indestructible steel alloy basket composition.
Two spring-loaded clamps allow for easy mounting to your bicycle's rear frame, and for easy detachment when necessary.