I meant to complete this "things I loved about living & bicycling in ________" series before National Bike Month ended, but it didn't happen and, anyway, bike month should be every month! Here's the second-to-last post of the series….
I lived in the city of Groningen in the Netherlands for 5 months in 2007. With a bike commute rate of about 50-60% and about 2/3 of inhabitants, in total, using the bike from time to time, Groningen is a top-notch bicycle city. It has been named Bicycle City of the World on more than one occasion and the following are probably the main reasons why:
Everything! Groningen very well may be the best bicycle city in the world, or at least the best in the Western world, and it is the best city I've ever been in for bicycling. It's got so much going for it that it's really not about the pieces as much as the whole, complete package. So, I'm putting this as one individual thing I loved about living and bicycling in the city :D.
Bike Paths and Bike lanes. Groningen's bike paths and bike lanes are almost everywhere (well, maybe they are everywhere). They are in the city center and in the far outskirts and suburbs as well. They are almost always colored (distinguishing them from car roads) and of a very good width — they are generally wide enough for two people to bike alongside each other or allow for easy passing. They are normally separated from the road as well, either by trees, bushes, medians, or parked cars. The materials used for them are great for bicyclists. Some also go through beautiful parks and natural areas, and even provide bicyclists with faster, more direct access to key areas than drivers.
The City Center is Closed to Automobiles: Well, technically, it's not closed, but it's divided into 4 sections and you cannot drive from one section to the other without leaving (i.e. you have to leave the city center and then re-entering in another place to go into another section). Practically, this limits cars in the area to only delivery vehicles. With almost no cars in the city center, it is a bike heaven. Bikes are everywhere and it is really something to experience.
It's Quiet: I was living right alongside one of the "busiest" roads in Groningen — it was the road from everywhere else in the city to the huge University, where the largest number of the residents go every day for work or school. It was a very pleasant street to live on — quiet, not polluted, safe, and attractive. If the large majority of people were driving and not bicycling it would have been a horrible place to live. But hearing the sound of clicking bikes and bike bells was actually a bonus of that location, I would say. This is when it really hit me how much bicycling instead of driving improves the quality of life of a city.
Beautiful Parks with Bicycle Paths: As I hinted above, there are numerous beautiful parks in Groningen, and I think all of them contain bicycle paths. Biking through those parks is one of the most memorable things of living in that city. It was a true pleasure.
Lights for Bicyclists at Intersections: Many 'main' intersections, due to the large number of bicyclists, include bicycle lights. That's cool in and of itself, but what's especially cool is that the bicyclists are green for bicyclists going in all directions at the same time. It is really amazing to see and go through intersections like that. At first, with the largest intersections, it is a bit daunting, as you are afraid you will crash into someone. However, it's actually quite easy not to and results in a beautiful flowing stream of cyclists, in my opinion.
Bicycle Boxes at Intersections: Also at many of the 'larger' intersections, there are large colored "bicycle boxes" extended from the bike lanes so that bicyclists can sit at the front and get a head-start in front of the cars (see the pictures above).
Roads are Small: Roads are quite narrow since there aren't so many cars on the road and bicyclists take up such little space. This is quite a nice thing and makes the city that much prettier.
Bike Parking: Of course with the large number of bicyclists, there is a ton of bike parking built for them. Bike parking is everywhere and it is crazy to see how many bikes get parked in some locations, like at major University buildings or the train station. The train station had just finished building a massive bike parking lot for thousands and thousands of bikes when I was there, and it actually often full… the pictures below of that try to capture what it was like, but they can't — the parking just goes on and on.
Short Distances: Without all the road space and parking space for cars, the city is very compact, so you can bike almost anywhere you'd like in 15 minutes max. Even biking to the outskirts of town doesn't take too long. To go from the South of the city to the North takes just about 30 minutes (and this is a city of about 200,000 people).
It's Flat: Of course, biking in a flat place is easier, and I'm a fan of easy biking.
Bicycle Bridges and Tunnels: There are special bridges built solely for bicyclists or that provide bicyclists with special and safe access. Where it's more practical, there are tunnels instead.
You Can Get Cheap Bikes Easy: There are a lot of older, second-hand bikes you can get for cheap that will provide you with all you need.
Handicapped People Using Bike Lanes: It was great to see that bike lanes were not only useful for bicyclists but were also used by handicapped people in wheelchairs (as you can see in the 4th photo from the top). Great infrastructure and transportation environment even for them.
Bicycle speed bumps. You can see bicycle speed bumps in the two photos on the very bottom of this post. These are put near major or potentially unsafe intersections. I loved riding over them — quick, fun dips and dives.
I'm sure there are many other things I loved about Groningen, but we'll leave it at that for now….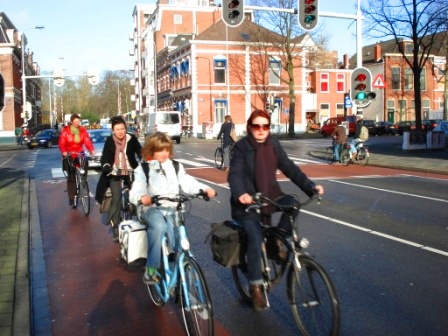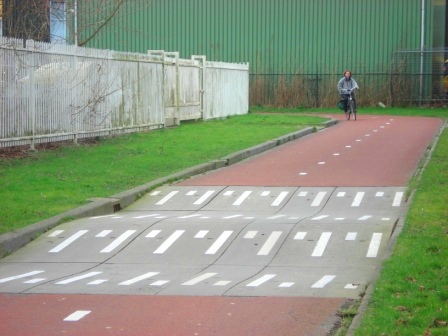 For more photos and information, check out my bicycle photo tour of Groningen from almost two years ago. More from this series: